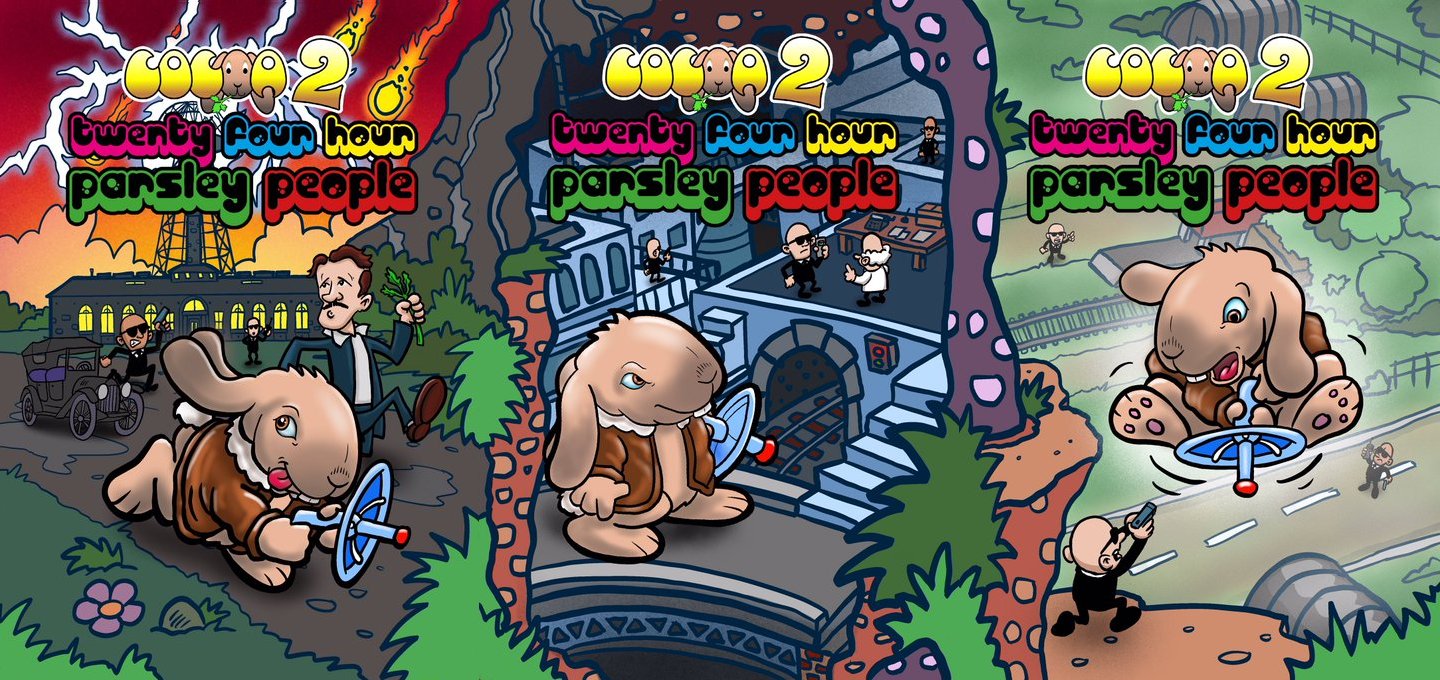 Cocoa 2: Twenty Four Hour Parsley People (ZX Spectrum)
TWENTY FOUR HOUR PARSLEY PEOPLE
- COCOA 2 -
(C) Minilop 2020
3 Episodes*
76 unique screens* Available in English, Español & Português
for the
Sinclair ZX Spectrum 128K
Read the reviews:
http://planetasinclair.blogspot.com/2020/11/twenty-four-hour-parsley-people.html

Also reviewed in Alessandro Grussu's 2021 Annual:

"Graphically, the game stands out for its style full of details and colors...
Twenty Four Hour Parsley People is a large arcade adventure, with plenty of surprises and unusual touches, and the ability to fly in the third episode adds a new dimension to the gameplay.
The first two episodes can be downloaded for free from the author's page on the itch.io website, but I am sure that after trying them you will be more than willing to pay a small price to purchase the full version. "
Get Alessandro's Annual here: https://www.alessandrogrussu.it/annuario.html
The story so far...
Having gathered enough fuel to return home from the middle ages in his first adventure (Cocoa and the Time Machine) Cocoa is in a quandary.

With just enough fuel to travel 150 years in time Cocoa realises he is going to need the help of one of history's greatest inventors to help him build a better, more efficient and powerful drive for the Time Machine.

So, he sets the controls for 1899, Colorado Springs, USA as he goes in search of Nikola Tesla and his Experimental Station to enlist the help of the great inventor.

Unfortunately, he lands in the middle of a Meteor Storm, and the even bigger issue of Tesla's base being overrun by shadowy secret agents who are hell bent on stealing Tesla's inventions for their own, nefarious purposes.

But Tesla still has one trick up his sleeve, the Tesla Device, a handheld, multi-purpose gizmo that might just help. Cocoa has 24 hours to save the day and help Tesla defeat the secret agents, recover the stolen inventions and power up the Time Machine.
Join Cocoa in this epic story spanning three full Episodes crammed full of new tricks, puzzles and platform adventure...not to mention...PARSLEY!

Cocoa, Nikola Tesla and Kolman are...24 Hour Parsley People
What extras do I get for tipping you a couple of quid?
For supporters who purchase 24 Hour Parsley People you will get :
All 3 Episodes and 76 unique screens full of awesome bunny adventure and puzzles
Jukebox feature (change the in game music)
Full colour player guide
4 desktop wallpapers featuring artwork by Ric Lumb
A nice warm feeling for being an excellent human
Our love
But if you just want to try the game you can download the free edition, this includes Episodes 1 and 2... I was just going to give Episode 1 away for free but I love Episode 2 so much I want everyone to try it... probably a financial mistake. But please, if you enjoy the game consider purchasing a Supporter Edition, it helps me to cover my costs for artwork etc. and reward my collaborators too.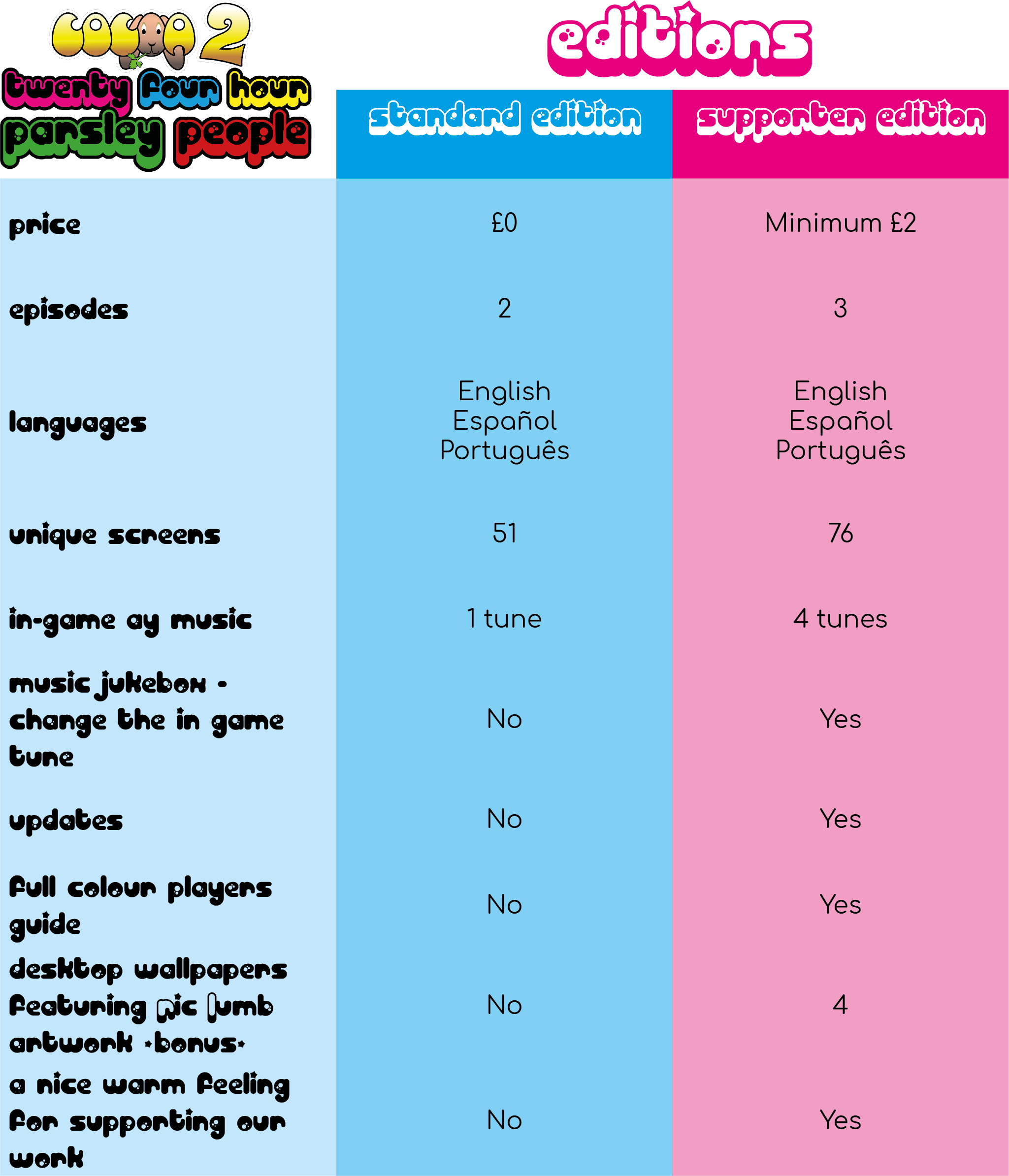 Much Love
Team Minilop
CREDITS:

Game code & graphics: Bruce Groves
Built with MPAGD by Jonathan Cauldwell
Custom MPAGD Engine: Jonathan Cauldwell
MPAGD Musicizer: David Saphier
Music: Mike Richmond
Artwork: Ric Lumb
Testing: Quantum Sheep, Stu Smith, Andre Leao
Spanish Translation: Javi Ortiz & Dario Ruellan
Portuguese Translation: Andre Leao
Download
Click download now to get access to the following files:
Standard Edition - English
63 kB
Standard Edition - Español
63 kB
Standard Edition - Português
63 kB
Supporter Edition - English
21 MB
if you pay £2 GBP or more
Supporter Edition - Español
21 MB
if you pay £2 GBP or more
Supporter Edition - Português
21 MB
if you pay £2 GBP or more
Comments
Log in with itch.io to leave a comment.
Awesome game! I still prefer the first, but Cocoa is aways fun :)
I'm currently working on something completely different at the moment, it will be out later this year, it's a top down shooter/adventure (think Alien Breed, Into the Eagles Nest etc.) There are some videos on my twitter @minilopr. After that, maybe Cocoa 3, I have the story for it....just haven't started development yet!
Hi Bruce, I don't know if you already read it, but I reviewed the game for the 2021 edition of my Annual (I downloaded it when it was offered free of charge).

Download it for free from my website:
https://www.alessandrogrussu.it/annuario.html

You can copy an excerpt of the review here if you like.

Best regards, Alessandro
Hi Alessandro, I did read your annual, it is superb and I tweeted a link to it that a lot of people downloaded and also commented how good it is! It's a really good and honest review, thanks, I will add some info to the game page.
Great game, I've bought it because it's a fun game and you helped me with WinAGD.
Wow!, thanks that is very generous of you. Glad to have helped too and I'm looking forward to seeing your creations
I think that nothing better than this game can be done with AGD.
the game is fun. thanks for release.
but why not Disk or Rom Cartridge image version ?
i want to play this game consistently from episode 1 to 3 rather than divided by each, with keeping track of number of lives and scores. and i feel that is as it should be.

Hi, and thanks for the feedback, this is something I am looking into and if successful I will add it to the supporters editions.
Yes Please !!.... oh pls wait...

i suppose big epic adventure could impress audience way better than 3 shorter episodes from the beginning of promotion itself.