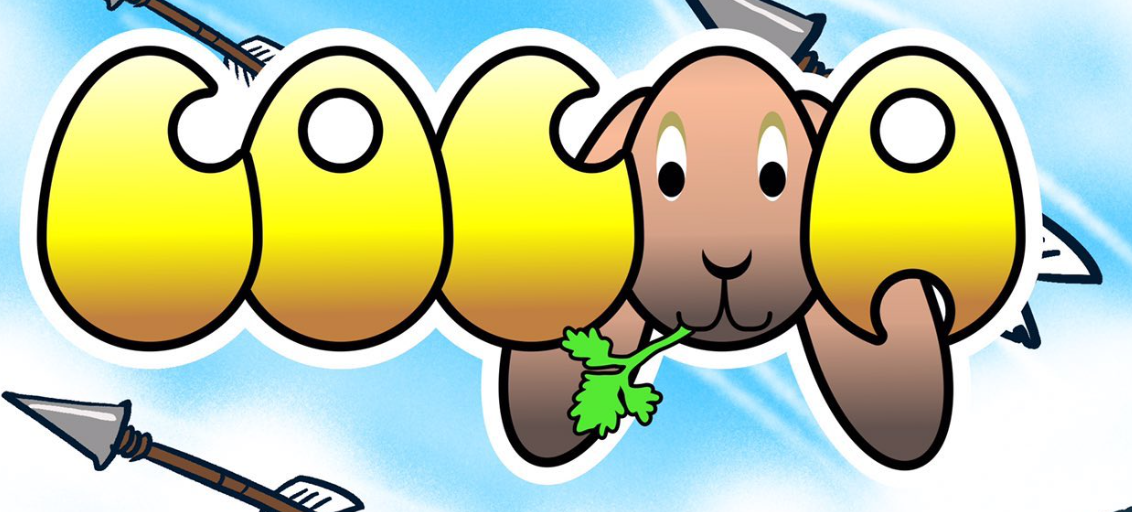 Cocoa and the Time Machine (ZX Spectrum & MSX)
Cocoa and the Time Machine
(C) Minilop 2020
A platform adventure game for the Sinclair ZX Spectrum (and now for MSX too!)
Meet Cocoa, the intrepid, accident prone, time-travelling Mini Lop Bunny, on his first adventure. Cast adrift through space and time, Cocoa's Time Burrow materialises in the 15th Century. With no fuel to get home...and desperately short of parsley to munch, Cocoa needs to use his skills and wits to refuel the Time Machine, recover valuable artefacts and satisfy his ferocious parsley craving.

Cocoa's Time Machine has transported his burrow to 1452AD, but he's used all his fuel in getting there.
He's on a mission to recover priceless artefacts for his collection, but is easily distracted by Parsley - his favourite food.
So, find the artefacts, refuel the time machine, munch parsley, and get home in time for tea...
...if only it were that simple, his new timeline has recently suffered a pandemic, and panic buying has left the land short of many essentials. The King, for one, has a desperate problem...can Cocoa help?
Like Cocoa?,,,,Cassette version now available
Want the physical Cocoa Collectors Edition? On good ole Data Cassette?....Now you can own it, available via the Bitmap Soft website here: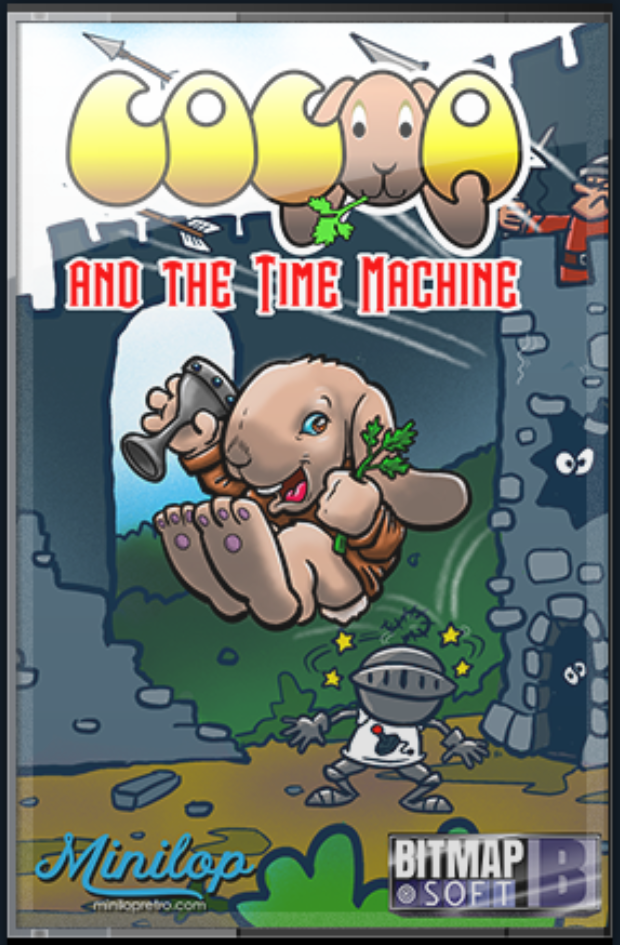 Cocoa and the Time Machine - now on Cassette!
MSX VERSION
Cocoa has now been ported to the MSX (works on MSX-1 & 2) platform, please note that I have no experience of MSX machines directly, for now the game is available as a DSK file, we are hoping to create a ROM version soon. In order to get the game to work on MSX I have had to remove some graphics and sprites from the Spectrum version, but the gameplay is essentially the same. The MSX version support keyboard cursor keys and joystick 1 & 2. Many thanks to Richard Smit for help with the MSX version.
Reviews:
GAME OF THE MONTH - JUNE 2020
PLANETA SINCLAIR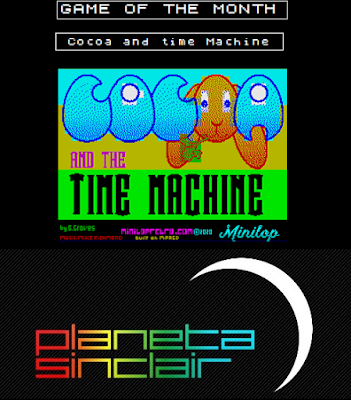 Cocoa and the Time Machine was awarded 'Game of the Month' by Planeta Sinclair for June 2020
"Cocoa and the Time Machine is one of the most fun games we've had the opportunity to try in recent times, it's addictive, and it won't give anyone a break until it's finished. "

Planeta Sinclair http://planetasinclair.blogspot.com/2020/06/cocoa-and-time-machine.html

RetroSpectrum (Ewan Spence):
Modern ZX RetroGaming: Rating = 90%
"Graphically the game is extremely polished, everything is looking nice and highly detailed. The game plays and controls well and it features two nice soundtracks by Mike Richmond. If you like platform games, but never had the patience to figure out what to do in platform adventures, this game might be the springboard, because the distance you have to walk before you can use the stuff you find is quite limited here.
The Spectrum games marked is not overcrowded with platform adventure games, so games like this is more than welcome, and this game is very well made! Besides the English version the game is also available with Portuguese and Spanish language. A fine game and the fact that it is the authors first game does not make it any less impressive!"
| | |
| --- | --- |
| Status | Released |
| Rating | |
| Author | Minilop |
| Genre | Platformer, Puzzle |
| Tags | 8-Bit, agd, MSX, Pixel Art, Retro, speccy, spectrum, ZX Spectrum |
| Average session | About a half-hour |
| Languages | English, Spanish; Castilian, Spanish; Latin America, Portuguese (Portugal), Portuguese (Brazil) |
| Inputs | Keyboard, Joystick |
| Links | Homepage |
Download
Click download now to get access to the following files:
Cocoa 128K English Version
44 kB
Cocoa 48k English Version
37 kB
Instructions (English)
1 kB
Cocoa ZX Spectrum (Portugues)
38 kB
COCOA 128K ZX Spectrum (Español)
44 kB
Cocoa 48K ZX Spectrum(Español)
38 kB
Cocoa MSX Version (dsk file)
720 kB